Products
Fabric Processing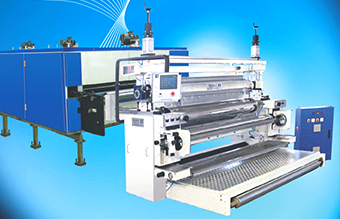 Coating Machine
TECHNICAL SPECIFICATIONS
Mechanical Speed : 2.5 to 50 Mtrs./Min.
Web Width : 1200 - 3200 mm
Coating Roller : Hard Chrome / Rubber
Coating Weight : 5 GSM to 500 GSM (Based on Knife Form)
Paste Viscosity : Upto 45000 CPS
Knife : Alloy Steel / SS 304
A Combi-Coating unit consists of a combination of Screen Coating / Printing Station and Knife Coating System. The machine can be used as:
Screencoating
Knife on Roll system
Knife on Air system
The combi-coater unit can be mounted in front of the existing Stenter or also in front of Textile Dryer. Based on coating application and required drying/curing time the speed of the machine varies based on available Dryer/ Stenter length.
SPECIAL FEATURES
Perfect uniform coating across the whole width
Vibration free rigid doctor blade construction
Special arrangement to set very fine gap across the width
Quick lifting system
Micro adjustment individual and together left / right
Knife on air arrangement
Dual knife system with option of thin /thick coating