Products
Fabric Printing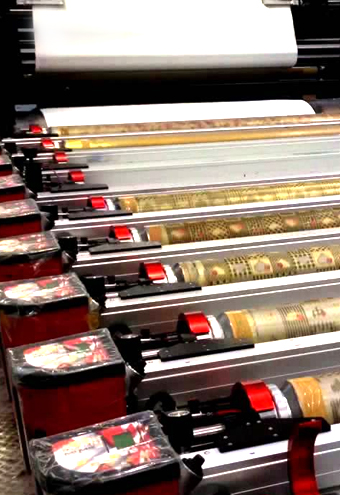 MHMS, Austria
Rotary Screen Printing Machine
Keenmark is an associate partner with an Austrian company – "MHMS", world renowned for its Rotary Screen Printing Machine with European Technologies.
MHMS has successfully installed machines running in over 25 countries worldwide.
MHMS machines provide High Quality Fashion Printing on all possible fabrics like finest silk, polyester, upholstery fabrics or heavy weight home textiles, from very short to extremely long runs.
MHMS machines can print up to 24 colours with 3.2 meters printing width.
MHMS Machine's Unique Features are:

-

Its Modular Design, Quick and Simple Screen Change

-

3–Point Suspension for Uniform Screen Tension and Utmost Smoothness.

-

Digitally controlled high precision Individually Driven Print Heads for perfect printing.

-

Unique 3-directional Joystick repeat adjustment for fine tuning during design setting.

-

Specially designed Magnetic beams for better efficiency and life.

-

Magnetic Coil Failure Indication on each Beam.

-

Variable Repeats up to 1018 mm.